Expert Lectures on Dairy Farming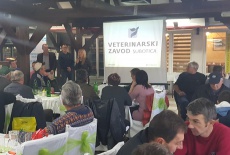 As one of its regular activities, Veterinary Institute Subotica, a Victoria Group member company, educates farmers in the animal production sector. In February, the company organized and took part in several expert lectures in Valjevo, Niš and Subotica, aimed at farmers in the dairy farming sector.
Experts from Veterinary Institute Subotica presented all the important aspects to be considered when taking care of a farm which affect the productivity and enable successful and profitable production, with the veterinarian playing a crucial role.
Given that the animal diet is an important factor for generating good production results, lectures of this kind are also a great opportunity for Veterinary Institute Subotica to present its rich line of animal feed and introduce the customers to specific products. Farmers had the opportunity to see a special presentation on the company's unique feed enriched with soy molasses.