German Economic Delegation in Sojaprotein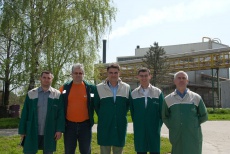 A German economic delegation, that has been interested in applying renewable energy sources to industry, paid a visit to Sojaprotein , a member of the Victoria Group. On this occasion, Sojaprotein's power plant was visited by Vlastimir Stojanović as a member of the German Economic Delegation in Serbia, and Zlatko Jovanović, representative of the German company A.P. Bioenergietechnik Gmbh.
Stevan Rausavljević, technical and EHS manager in Sojaprotein, introduced the guests to the successful use of biomass and soybean molasses as fuels. They were presented the technology used in the boiler room in order to obtain water vapor, necessary in manufacturing processes, whose power is significantly greater, when compared to the power of hot water systems presented by the members of the Delegation during their visit. In addition, they were also introduced to the manner of storing and preparation of biomass.