Participation of Sojaprotein on two international food technology conventions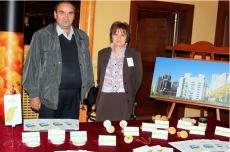 ​Sojaprotein, a member of the Victoria Group, participated on the 2nd International Congress "Food technology, quality, and safety" and the 16th International Symposium "Feed technology," which were held from October 28 - 30, organized by the Institute of Food Technology of the University of Novi Sad. For the first time, these two events united to jointly promote research, development, innovation, and education in the field of food technology for human and animal consumption.
At the "Feed technology" symposium, representatives of the Sojaprotein company presented the application of soy protein concentrates and the gathered experience in their practical application, while they also had the opportunity to host a number of colleagues visiting from the Scientific Institute for Food Production in Milan and the California Institute of Food and Agricultural Research in California.
These two international conventions were attended by around 300 delegates from 29 countries around the world, while the representatives of leading scientific institutions and laboratories for quality control were also present, as well as representatives of state organizations involved in the production chain.
As a part of the program, recognitions were awarded to companies and organizations that helped in the running of the event, among whom was also the Sojaprotein company.