Pellets for animal litter presented to poulterers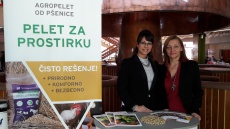 The 26th Poulterers Conference organized by CIIP Živinarstvo took place from September 26 to September 30 on Tara Mountain with a number of international participants. In the course of the event, more than 170 participants had the opportunity to find out all the details about agro pellets for animal litter, a new product placed on the market by Victoria Starch, a member company of Victoria Group.
The company director, Jelena Mitrović, presented all the benefits of using agro pellets for animal litter to breeders of broilers and parent stocks. You can read more about that here.
The program included the presentation of a short film about the production of agro pellets at a plant in Zrenjanin and the results of its application at two large poultry farms.