Quality Soybean: From Science to Practice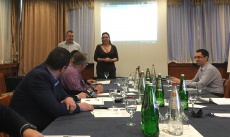 On March 21 and 22, the fourth workshop within the "GMO-free Quality Soybean From the Danube Region" project of the German Corporation for International Cooperation (GIZ) was held in Novi Sad. The topic was "The Transfer of Knowledge from Science to Practice as an Instrument for Achieving Economically, Ecologically and Socially Sustainable GMO-free Soybean Production".
The lectures during the first part were held by Svetlana Balešević Tubić, PhD and Vuk Đorđević, PhD from the Institute of Field and Vegetable Crops in Novi Sad, and Prof. Rade Popović, PhD from the Faculty of Economics, Subotica. This part of the workshop involved solving a case study from the field of soybean growing technology; then, the recommendations and results of research in this field were presented and the participants shared their experiences on implementing agrotechnical measures in practice. As a result, the level of agro technology applied in the different regions in our country where soybeans are grown was mapped.
In the second part, Željko Nikolić, director of financial derivatives trade in Victoria Group, gave a presentation on the changes in the prices of agricultural goods on the stock market and their influences on the Serbian market. In his presentation, he discussed the global production, consumption and supply of soybeans, sunflower, corn and wheat, and talked about global trade involving these goods with a special focus on soybean and the factors influencing the formation of its price.