Record donation to Food Bank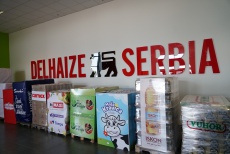 As part of the large Easter charity campaign "Helping together" ("Pomažemo zajedno"), the Food Bank received a record donation of 7 tons of staple foods in only one day. The charity was organized by Delhaize Serbia and its partners, among which was Victoriaoil, a Victoria Group member company.
"This is a record one-time donation to the Belgrade Food Bank. We are grateful to all the companies that participated in this charity campaign. We have been collaborating with Delhaize Serbia for many years, and connecting with their suppliers has shown that there still are people in Serbia who recognize the importance and the potential of a humane project such as this one, and that they are willing to contribute to its realization," said Radmila Ivetić, chairwoman of Food Bank, when the donation was received.
All of the charity campaign participants donated a pallet of their products to the Food Bank, and Victoriaoil donated a pallet of Iskon sunflower oil. This was not the first time that Victoria Group and its member companies had supported this non-profit organization, whose activities are aimed at reducing poverty, hunger and food waste.
Companies which joined Delhaize Serbia in this charity are: Coca-Cola, Delta holding, Imlek, MK Group, Moć prirode, Nestle, Podravka, Polimark, Štark and Somboled.