Tamara Vlastelica presented with the "PRO PR AWARDS" international recognition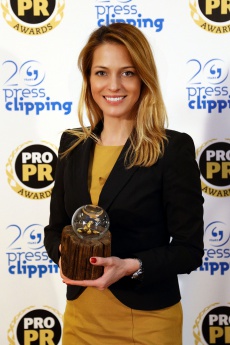 As part of the "PRO PR 2017" regional conference dedicated to public relations, prestigious "PRO PR Awards" were presented on April 8 to individuals who have contributed to the development of the PR profession over the course of their careers, both in their own county and in the region. The candidates are nominated by an international jury composed of individuals working in all areas of public relations, and a special committee chooses the winners by analyzing media announcements and the candidates' professional results.
A total of 24 awards in different categories were presented at the award ceremony to individuals from the UK, Italy, Austria, Russia, India and the Adriatic region. This year, the awards went to three experts in the field of communications management from Serbia, among others, to Tamara Vlastelica PhD, Corporate Communications Advisor at Victoria Group and Assistant Professor at the University of Belgrade. The other two laureates from Serbia were Andrea Váci, Coordinator of the Media Center of the City of Subotica, and Arsen Rudan, Corporate Affairs Manager at Air Serbia.