Victoria Group as a Part of Program for Corporate Volunteering "Academy of Business Skills"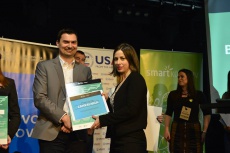 Within the Forum for Social Innovations that was held on April 22 in Belgrade, the previous work of "Academy of Business Skills" for non-profit organizations was presented. As a result of this initiative, there was a gathering of the first community of business professionals from the biggest companies that operate in Serbia, who donate their knowledge and skills, and in this way help organizations which promote goals that are of social benefit. In this way, some contribution is made to increasing efficiency, sustainability and visibility of civil society organizations and social enterprises.
The Victoria Group, being a member of the Forum for Responsible Business, entered into the program for corporate volunteering, as was organized by Forum, along with Smart Kolektiv, with the support of USAID. On that occasion, it was awarded a letter of recognition on this year's Forum for Social Innovation together with other companies which joined the initiative.
The Forum for Responsible Business is a network of leading companies which contribute to community development, by fostering the development of socially responsible business and establishing permanent and stable socially responsible practices in the business sector. The Forum develops practical and sustainable solutions in all four fields which represent the pillars of socially responsible business: local community, environment, work environment and market.