Victoria Group at the Trilateral Business Forum in Istanbul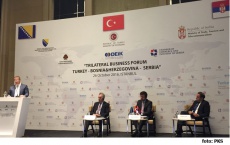 The Turkey–Serbia–Bosnia Business Forum, organized by the Foreign Economic Relations Board of Turkey, the Chamber of Commerce and Industry of Serbia and Foreign Trade Chamber of Bosnia and Herzegovina took place in Istanbul, on October 26. Around 100 companies from these three countries participated in the forum and most of them were the representatives of the agriculture and food, energetic and transport sectors.
Victoria Group was a part of the Serbian delegation. Nikola Vujačić, Chief Operations Officer of Victoria Group and Srđan Popov, Operations director of Victoriaoil, a Victoria Group member company, participated in the discussions on the placement of goods and the strengthening of business relations.