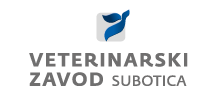 Veterinarski Zavod Subotica
The Veterinary Institute Subotica is the most comprehensive veterinary system in Serbia, and the only company that provides complete solution in the field of livestock farming – from the prevention of animal diseases, through animal nutrition, to animal treatment.
The company applies its technology in the production of chemo-pharmaceutical and biological products, animal feed, extruded pet and fish food, as well as production and services related to disinfection, disinsection and rat extermination.
An important investment cycle for the Veterinary Institute Subotica began when the company joined Victoria Group in 2005. This has resulted in a new plant for the production of pet food, the complete gasification of the Institute, and a plant for the production of extruded fish food, along with solid and liquid pharmaceutical forms.
Thanks to its compliance with the ISO standards, as well as its HACCP and GMP certificates, the Veterinary Institute Subotica today exports to European Union markets, and recently to the Russian market as well.