The 51st Conference of Agronomists and Farmers finished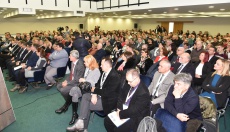 The 51st Conference of Agronomists and Farmers was held, which traditionally takes place on Zlatibor Mountain at the end of January and brings together the key players in Serbian agriculture. More than fifty lectures and presentations on primary agricultural production, soil fertility and crop protection were given from January 22 to 28.
"This is a very important event for us in the agrobusiness, because it gives us a place to share our experiences, analyze the previous year and make plans for the current year with our numerous partners", said Mladen Jovanović, the director of Victoria Logistic, a Victoria Group member company. This company collaborates with around 40,000 farmers from about 300 agricultural cooperatives. Aside from the purchase of oilseeds and grains, providing logistics and quality control services, Victoria Logistic also organizes primary agricultural production. "We are currently preparing the offer of seeds, fertilizers and pesticides for the upcoming production season which we will be presenting in the coming period. In addition to high quality input materials, our partners can also use the services of Victoria Logistic Expert Service, which helps them achieve the best production results possible. In short, we offer a fully rounded service package – from preparation and sowing, through crop monitoring and harvest, to transport and storage", said Jovanović.
The Conference, one of the most important domestic agricultural gatherings which merges science and practice, gathered over 700 participants: agronomists, agricultural producers, production planners, processing and trade companies, the representatives of competent public institutions, consulting services, scientific and educational institutions.
"At the Conference, we presented the latest accomplishments and the directions of future development of agriculture, both in Serbia and worldwide. We have shown the innovations in the field of breeding and technology for growing the most important field, industrial, fodder and vegetable crops. This year, we have also been growing certain alternative and organic cultures", said Dr Jan Turan, Acting Director of the Institute of Field and Vegetable Crops from Novi Sad, before the organizers. He added that this scientific and research center has been creating hybrid sorts with great potential for good yields, at an acceptable price point for our farmers.