The 95th anniversary marked with business success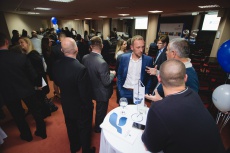 On December 22, Veterinary Institute Subotica, together with its partners, celebrated 95 years of its existence and business operations, as well as bringing another successful business year to a close.
Today, the Veterinary Institute is the most complete system in the field of veterinary medicine in Serbia. It offers end-to-end solutions for livestock breeding – from preventive measures, through feeding, to the treatment of animals. It has had an extensive investment cycle since its integration into the business system of Victoria Group in 2005. The commissioning of the reconstructed biological preparation plant in 2015 stands out among its latest investments. This plant was constructed according to the highest GMP and GLP standards, while the range of biological preparations is being expanded with the introduction of new vaccines, manufactured in accordance with the highest standards.
During 2016, the plant for the production of ointment for general use was set up. The products that will be manufactured at this plant are Flogo ointment, Zinc-vitamin ointment and Ihtiol Kamfor ointment, and there are also plans for the expansion of this range. A state-of-the-art robotic palletizing system for stacking bags onto pallets and preparing the pallets for transport was installed in the animal feed production plant.
"We like to say that we offer a complete, domestic product. From the day of its foundation, our factory has been a synonym for quality, but also an institution which sets the standards. Almost ten decades of tradition have laid the foundation for a clearly defined path into the future for the Veterinary Institute Subotica, where "quality above all" will always be found, as our slogan suggests", said Igor Radoš, General Manager of the Veterinary Institute Subotica.