Soil analysis promoted at the conference organized by the Faculty of Agriculture of Novi Sad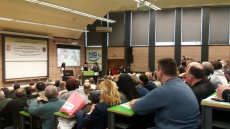 The Faculty of Agriculture of the University of Novi Sad, the Department of Field and Vegetable Crops, organized a scientific and professional event "Hello, farmer" ("Dobar dan domaćine") on February 9 and 10.
This consulting event was sponsored by the Ministry of Agriculture and Environmental Protection of the Republic of Serbia and the Provincial Secretariat for Agriculture, Water Management and Forestry. The two-day program gathered farmers, agronomists, agriculture associations, and professional consulting companies. There were over 1,000 participants from Vojvodina, Mačva, Šumadija, Kolubara region, and Semberija, who were given the newest information about the sowing of spring plant species. Critical moments in the growing technology for the most important field crops were highlighted, as well as the innovations in the agriculture machinery.
Victoria Logistic Expert Service supported this event and once again emphasized the importance of book keeping for fields and sampling with soil analysis. During the event, all of the agricultural producers who had signed up for the soil analysis were granted a promotional price for this service. A large number of interested parties shows that the producers are aware of the necessity and relevance of this agrotechnical measure.