The sowing of spring crops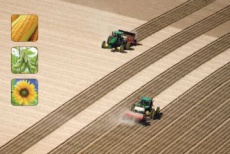 The beginning of spring marks the beginning of intense work on the most important task in agriculture — the sowing of spring field crops. Every year in March, April, and a part of May, over 1.5 million hectares of land are sown with corn, soybeans, sunflower and sugar beet.
Sugar beet will be sown first, on around 60,000 hectares this year, which, provided that the yields are as expected, meets the requirements of the processing capacities of sugar refineries in Serbia.
The sowing of sunflower is planned on as many as 220,000 hectares, primarily due to the achieved stable yield and prices in recent years. Taking into account that the average yields achieved last year were over 3.5 tons per hectare, and therefore the highest in Europe, the producers' interest in this plant is not surprising.
Soybeans will take up around 200,000 hectares of our country's fields this year. Favorable weather conditions allowed for a quality seedbed preparation. When it comes to this plant, Serbia also achieved the best yield in Europe last year, significantly higher when compared to all the other countries in the region. Tradition and experience regarding this plant are the basis for the expectation that this year's yields will be over 4 tons per hectare.
Corn will traditionally take up most of the land in the spring sowing. It is certain that 900,000 hectares will be sown using top quality seeds from many domestic and foreign seed companies. As much as 28 seed companies are competing on the Serbian market, and producers have over 280 different hybrids at their disposal.
This year, Victoria Logistic Expert Service will once again set up two demo experiments with soybeans and sunflower. In these experiments, new technologies will be implemented in order to achieve top yields with high protein content in soybeans and high oil content in sunflower. The company has prepared a large offer of quality soybean, sunflower, and corn seeds for sowing.