Spring Sowing and Condition of Crops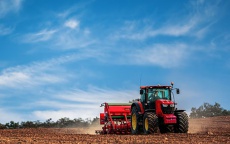 Thanks to the favorable weather conditions - air temperature, but also the soil temperature, which, in the beginning of the first ten days of April, three days in a row, stabilized at 12 degrees in the soil planting layer (5-7cm), agricultural producers all over Vojvodina began to sow thermophilic plant species in the second ten days: soybean, sunflower and corn, depending on the region.
In lighter types of soil, the sowing of soybean and sunflower has already been completed; in some regions of southern Banat, evidence of the germination of soybean crops has already been noticed. In some regions, the sunflower is in the initial phase of germination, and thanks to the continued warm weather at the end of the last week, the first germination of sunflower has also been noticed.
On heavier types of soil, agro-technical activities for pre-seeding soil preparation, the application of some quantities of nitrogen fertilizers based on previous soil analyses, and sowing are taking place in an accelerated manner.
Because they have showed stability in bad weather conditions during 2015, the lands under sunflower cultivation will be increased by about 15%, according to some forecasts. Over 200,000 ha are definitely going to be dedicated to this oilseed.
Because of lower than the average yields last-year, due to drought and lack of precipitation, the soybean crop will suffer a drop in land area compared to the record seeded areas of last year. This year, they will cover age-long average areas - about 180,000 ha.
The sowing of corn in some parts of Srem, in southern Banat and in some parts of northern Bačka has begun 7-10 days ago. Thanks to the well prepared soil, it is going according to plan, and is likely that the corn crops will encompass between 870,000 ha and 920,000 ha.
At the moment, toilseed rape is in the early phase of blossom to full blossom, and covers about 17,000-19,000 ha.