Victoria Group at the FRA ARENA 2016 on Agribusiness in the Region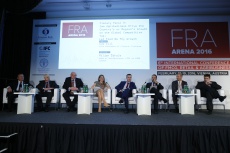 The FRA ARENA 2016 6th International Conference of FMCG, Retail and Agribusiness Industry was held in Vienna on February 18 – 19, organized by the Infoarena Group with the support of EBRD. This year's topic "From Global Challenges to Grand Opportunities" gathered more than 80 experts and entrepreneurs from the region, including the representatives of international institutions and organizations. During the two days of the conference, there was talk about cooperation and the opportunities for growth in the production and sales of food products, new markets, and attracting new investments. Discussions also focused on the future of retail and the influence of digital technologies on its development.
On the first day of the conference, Nikola Vujačić, Chief Operations Officer and Executive Director of Victoria Group, participated in the panel which discussed whether agribusiness can be the driving force of growth in the countries of the region, and in the region as a whole. He pointed out the important position of agriculture and the food industry, both in Serbia's and the region's economy, with the potential for further improvements of competitiveness, especially on the European market. He also emphasized the importance of investment for the development of this sector, as well as the importance of applying modern technologies in production.
The participants in the panel concluded that the increased demand for food products is a great opportunity for the economies of the countries in the region, but also that it is important to create sustainable value chains and innovative business models in order to address different challenges.
The panel's moderator was Miljan Ždrale, Head of Agribusiness, South-Eastern Europe, EBRD, and the other panelists included Marija Desivojević Cvetković (Delta Holding), Andrzej Rozycki (Bunge), Nuno Santos (FAO), Ilija Studen (STUDEN Holding), Stefan Bucataru (Agricover SRL) and Guy Gill (Frutarom).