Victoria Logistic at the Farmers' Winter Seminar on Tara Mountain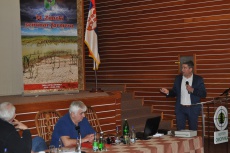 The 14th Farmers' Winter Seminar organized by the farmers' association "Klub 100 P plus" from Novi Sad was held on Tara Mountain from January 28 to February 3. Around 300 participants attended the opening ceremony, and the seminar was opened by the Provincial Secretary of Agriculture, Water Management and Forestry, Vuk Radojević.
The seminar was dedicated to new findings in the field of agriculture, and among this year's topics was also agricultural policy. Numerous lectures about vegetable crops, field crops, and fruit growing were held. Special guests at the seminar were representatives of the Austrian Agricultural Cluster (AAC), who shared their agricultural production experience with the other participants.
Victoria Logistic, a company traditionally present at this gathering, was represented by the Regional Manager Živko Stanojević and Vladan Ćirović from the Expert Service. They discussed the benefits of collaborating with Victoria Logistic, focusing on the upcoming season, as well as the necessity of soil analysis in modern agricultural production.
Producers of agricultural machinery and equipment, mineral fertilizers, pesticides, seeds, fuels and lubricants presented their product portfolios at the seminar. Banks and insurance companies also participated alongside them, presenting the terms and conditions of loans and crop and livestock insurance.