Victoria Logistic traditionally at the Conference of Agronomists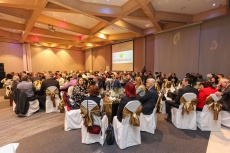 This year, the 51st Conference of Agronomists and Farmers of Serbia, organized by the Institute of Field and Vegetable Crops from Novi Sad, was held on Zlatibor Mountain from January 22 to 28, 2017. At the same time, the 63rd "Agricultural Engineering" ("Poljoprivredna tehnika") Symposium was held, organized by the National Scientific Society for the Agricultural Engineering and the Faculty of Agriculture of Novi Sad.
Victoria Logistic traditionally participates in the Conference of Agronomists and organizes numerous meetings with business partners there. Additionally, the monitoring and quality control sector and the storage sector organized a Round table with the representatives of inspection companies, storekeepers and transporters; last year's data were analyzed and new solutions for improving cooperation were proposed.
More than 200 business partners attended Victoria Logistic's formal dinner party held on the second day of the Conference. The photos from this event may be seen here. The video from the TV program "AgroDan" may be seen here.